Throughout the ages, Pegasus stands as a symbol of accomplishing the previously  unattainable — of independence and triumph.  What better image to portray our autism program, than a child sitting atop the magnificent winged horse, together soaring towards a brighter future?
Columbus's NBC4 special "The Autism Puzzle" (4/25/2012) featured Edgewood Equestrian's Pegasus Program (highlight begins at 10:49).
Our Pegasus Program will help your child discover his or her own potential.  We've adapted
the phenomenal "Horse Boy Method" into our own unique program.  Click here for a link to the movie trailer for "The Horse Boy".  Your child will be empowered to share their autistic world with others in a safe and nurturing environment.  Our program's successes can be measured in the smiles, eye contact and interactions of the children with our staff, volunteers and most importantly, their families!
The program is simple; the most important component is the horse, of course.  Clients blossom through the application of sensory work, back riding, perspective taking and academics.  Send us an email, or give us a call today to help your child discover their potential.
Licking, Muskingum, and Delaware county residents may be eligible to receive payment assistance.
Price: $45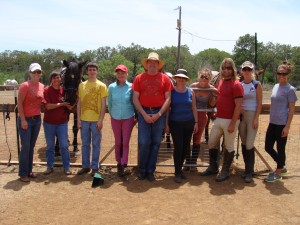 This one hour session is completely tailored to suit the child's needs.  It may involve back riding where both the student and adult instructor are mounted on the horse.  It may involve sensory work with the horse.  No matter the lesson, it will always be fun!
Left to right: Mary Singleton, Sandy Willmore, "Marvel", Andy Willmore, Val Halliwell, Russ Edgington, Lynn Edgington, Erin, Rupert Isaacson, Iliane Lorenz, and "Betsy" at Horse Boy Method Certification in Austin, TX May 2011.
Children with neurological issues seem particularly to benefit from this, but all children benefit from connecting with animals and nature.  We believe in taking a whole-family approach when working with autistic children, so that siblings can have fun and be included in the "therapy" (which doesn't seem like therapy any more).  Parents also participate fully, so family bonds are strengthened.
~Rupert Isaacson, founder of the Horse Boy Method