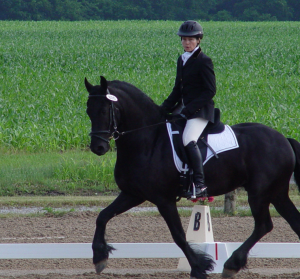 Our experienced trainers and coaches enjoy starting young horses.  If your horse is already well on its way to becoming a star, let us help you launch their career.  Our record speaks for itself with wins at regional championships and a first place in the breed show at Dressage at Devon.  Let us help you realize your dreams, whether your horse is imported or domestic.
Check out some video examples of our trainers at work!
Tango (Trakehner gelding)
In Passage with Lynn Edgington
.
Bergemir (Hanoverian Stallion)
60 Days under saddle with Lynn Edgington

"Fair Lieutenant" aka Lucy (OTTB mare)
Retired from the track due to all over body soreness.
In rehab and dressage training with Russ Edgington

"Bergemir"  with both Edgingtons.
"White Voo Doo" aka Stella (OTTB mare – 31 starts, no wins)
With Russ Edgington